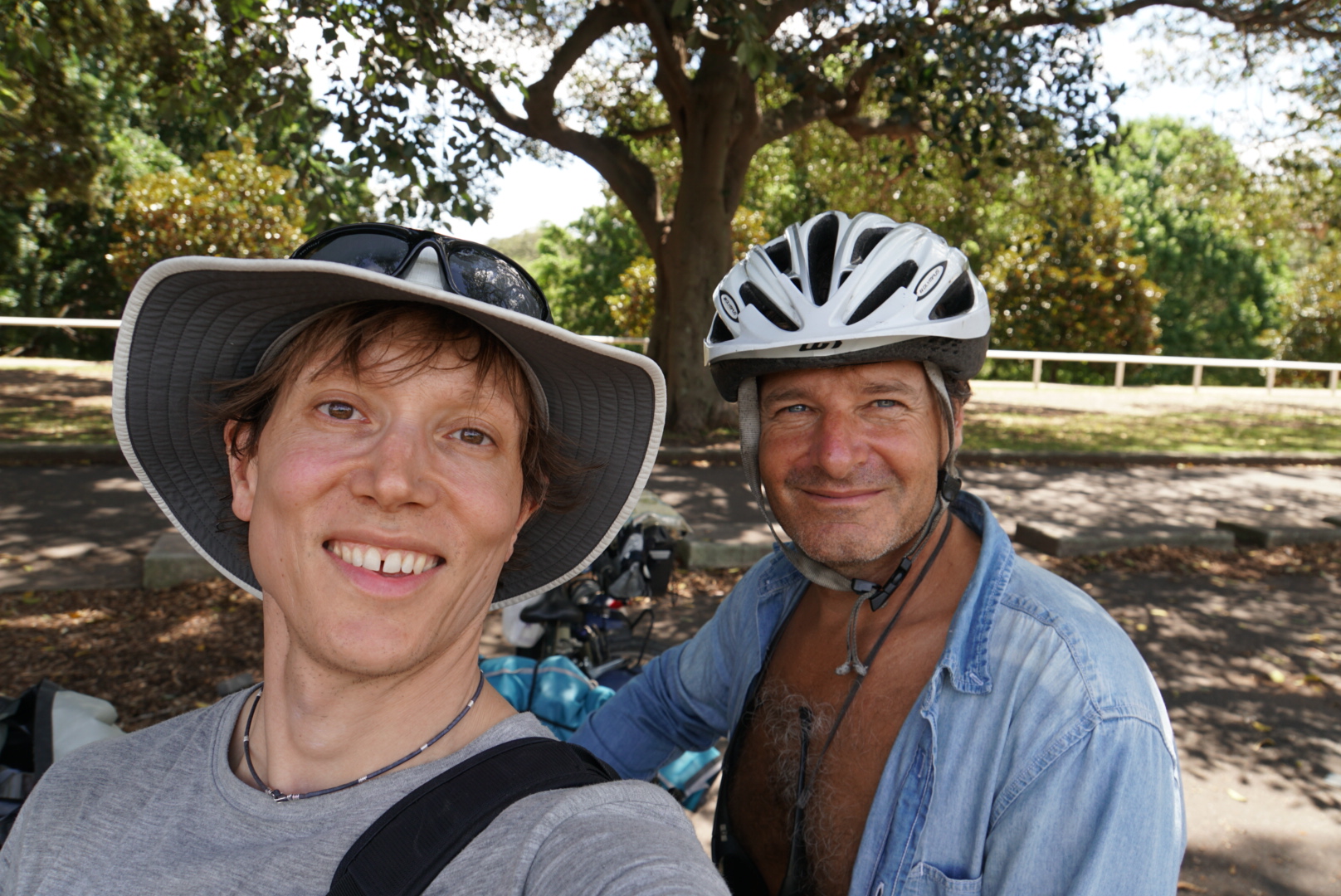 Amazing first day in Australia
What a great first day down under.
Sydney welcomed us with a soothing scent of Eucalyptus and a brilliant blue sky dotted with shiny white clouds.
While we rode through the beautiful Centennial Park we started chatting with a fellow cyclist. After finding out that Larry was also an avid cycle traveller he invited usfor peppermint tea in front of his minivan. The kids loved it and had an impromptu drumming and christmas song session in and outside of the former school van. Larry has cycle toured extensively in Europe and Asia Pacific and seeks peace and happyness in nature, other people and the simple beauty of life. This means for him right now living in his Minivan and riding his bike or camping wherever he pleases. He also laves the water and therefore carries his Kayak on top of the van. Larry is also an inventor and his latest innovation is a portable suitcase sized camping shower that can recycle water and create a private shower space virtually anywhere, even inside a van or room. His project can be found at kickstarter.
As if this were not enough amazing encounters for 1 day we later rode to Grant our host from Warmshowers. Grant has travelled and worked in places like Sudan Jemen or Ethiopa and rode his bike from Paris to Istanbul.
Warmshowers is an online portal and community like couchsurfing but from cyclists for cyclists. It's an amazing platform and we have hosted cyclists in Singapore and have been guests with other hosts during our current tour.
Encounters like Larry and Grant are great fun and inspiration and are one of the many things that make cycle touring such a unique experience.