After donating and volunteering ourselves, we are now happy to collect donations for tree planting at the Fukushima coast and will forward the funds at no additional admin fee to TCC / FCC.  For example, 3 000 Yen (less than 30 US Dollar) will enable planting of 10 trees (less than 3 US Dollar per tree). You can donate less or more of course.
We have visited Tochigi Conservation Corps, Japan (TCC) in July 2016 and experienced 1st hand their fantastic forest conservation work. TCC is closely linked with its sister NPO (Non Profit Organisation) Fukushima Conservation Corps (FCC), which is planting trees and restoring shoreline forests in Fukushima prefecture. The coast has been severely damaged by the 2011 earthquake and its consecutive tsunami. Most of you will know of the devastating nuclear accident that happened in this area.
Payment option 1: PayPal/Credit Card
For example 28 USD per 10 trees. Just click the button below.
Payment option : Bank transfer in EUR: for example 25 Euro per 10 trees
Umweltbank
Ragna Schmidt-Haupt
Acc. No. / Kontonummer 100 865 439
Bank code / Bankleitzahl 760 35 000
IBAN  DE 69 760 350 00 01 00865439
Purpose: TCC Fukushima
Payment option 3:
Credit card payment in Japanese Yen via the following link: for example 3000 Japanese Yen per 10 trees
https://kessai.canpan.info/org/tochigicc/donation/100790/
MORE DETAILS
Since 2008, we support tree planting and forest conservation projects in various countries, that we travel in, by collecting donations and channeling them through to selected projects. We would like to thank our many, many donors throughout the world for their generous support!!! Projects have been selected carefully by us so far primarily in Africa, South America and South East Asia.
During our Zen Tour in 2016/2017 we will add further geographies. In Japan, we have met with the team and volunteers of the Tochigi Conservation Corps (TCC), who have a proven track record and are doing a fantastic job. They are undertaking several forest conservation activities, such as cutting the invasive Chinese Bamboo species in forests that have been put under their care.
Additionally they are conducting events for children, families, people with special needs or even companies that involve wood craft and games in the forest (away from the urban city life).
TCC's offers several volunteer programs that attract Japanese and international volunteers alike, be it for just a couple of days, 3 months or even 12 months. http://www.tochigi-cc.org/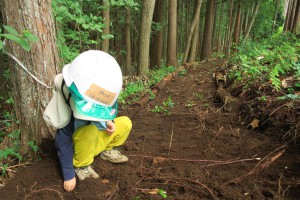 New Forest Trail building with our kids
We are now collecting donations for their great work of restoring the forests at the Fukushima shoreline. After the big Earthquake and consecutive Tsunami the forests at the coast have been damaged severely. Most of you will know the Fukushima region for its nuclear disaster at Fukushima Daiichi. The FCC team together with volunteers from TCC will in the vicinity of the Fukushima exclusion zone plant indigenous Japanese pine trees in Autumn 2016, and maintain the seedlings and young trees in the following years. We are very happy that theses people are ready to go so close to the exclusion zone, many of us would probably not be willing to do this…
You can already – with small amounts – support these projects. For example, 3 000 Yen will cover the expense for the planting of 10 trees. You can donate less or more of course.
In July 2016 we have already donated 30.000 USD, ie 100 trees. Thanks to our generous donors from Singapore: PMI Preschool friends, juwi and DNV GL colleagues as well as German friends and neighbours!! As usual, we have topped up their donation amount.