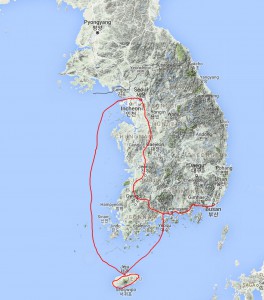 Planned Korea Route
The Story
Cycling Tour for one year in Eastern Asia and New Zealand with two children in 2016/2017. To convey a Zen message of a balanced life between humans and nature with stories and outdoor experiences of a family on bicycles and child trailer.
Building on our previous campaign momentum, we continue to highlight climate change challenges and showcase achievable and innovative solutions in three areas:
Energy – Renewable Energy (Solar, Wind, Small Hydro)
Mobility – Cycling and public transport
Ecology – Forest Protection & Afforestation
The Approach
Combine family travel & adventurous cycling tour. Showcasing active and mobile outdoor lifestyle with young children in nature.

Deliberately take time off from Corporate World to re-focus on family and sustainable lifestyle. Highlight benefits of balanced lifestyle as part of nature.

Visit and support Afforestation projects (plant min. 10 trees per country visited)

Pledge to reduce our family carbon footprint, by choosing a

sustainable mode of transport with children during bike tour.

Credibility through personal action.

Communicate first-hand experience with focus on balanced lifestyle and Climate Protection (Renewable Energy, Mobility and Ecology) and create local and international media awareness (website, social media, print, radio, TV, online).
Start: April 2016 in Osaka, Japan

Mode of transport: Overland distance mostly by cycle + boat. CO2 emissions from flights will be compensated for.

Zen

Countries: Japan, South Korea, Taiwan, New Zealand

Natural

challenges:

Heat, Dust, Water scarcity, Thunderstorms,

Snow,

Rain

, Extreme tracks

Mountains & Volcanoes: Volcanoes of Japan and Korea, Yushan Mountain range, Mt Cook National Park, Jeju Island

Oceans & Lakes: Sea of Japan, East China Sea, South China Sea, South and North Pacific Ocean, Tasman Sea
Sponsors 

Thule – Chariot