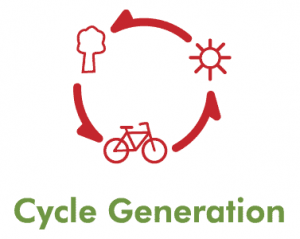 Vision
Combat climate change and live a Sustainable Way of Life
Energy – Renewable Energy
Mobility – Cycling and Public Transport
Ecology – Forest Protection & Afforestation
1) We promote the change from a fossil & nuclear driven economy to a renewable energy based circular economy.
2) Promote cycling and human powered vehicles as zero emission vehicles, promote innovative public transport and other low CO2 emission transport options.
3) Campaign for the protection of ecosystems with special focus on forests and Afforestation
Ragna
| Passionate about Cycling, Renewable Energy and the Environment
| What keeps you going?
| Adventurous travel, Nature, Cycling & Outdoor Sports, best shared with family or friends.
| Learn about new cultures and people & get new inspirations from various philosophies of life.
| Literature, classical piano concerts and cultural entertainment.
"Since my early childhood, my family traveled with our VW-minibus during all school holidays to many Eastern and Western European countries and even New Zealand. Having experienced my first school exchanges to France from the age of 12, I started enjoying traveling and living in new countries, cultures and environments. I like discovering the outdoors and nature and feel strong about imparting this to my children. I strongly believe, that human kind needs to preserve nature in order to continue to enjoy traveling and discovering new landscapes. Since more than a decade, my jobs have been dedicated to the renewable energy industry around the world and have been part of my commitment to campaign for the environment."
Amiram
| Passionate about Cycling, Renewable Energy and the Environment
| What keeps you going?
| Nature, Family, Adventurous Travel, Cycling, Friends, Hiking
| Literature, Cinema, Humour, Political Comedy.
"Since I was a young boy I have loved to explore nature and be amazed by it. Reading stories like Marco Polo's journeys inspired dreams of traveling overland along the Silk Road to Asia. This would later lead me to cycle from Berlin to India and back in 2002/2003. Since then numerous other cycle tours in many parts of the World have followed. One of these became an Epic Climate Adventure across Africa 2008/2009. All of this is now the Cycle Generation. Riding a bicycle has proven to be the most exciting, versatile and fun transport option for me.
My other passions are Renewable Energy and environmental protection. I have been fortunate to work for almost two decades in this field and I can assure you that it's exciting, great fun and incredibly rewarding on the Greener side of life."
Redaktionell verantwortlich sind Ragna Schmidt-Haupt & Amiram Roth-Deblon
Haftung für Inhalte
Die Inhalte unserer Seiten wurden mit größter Sorgfalt erstellt. Für die Richtigkeit, Vollständigkeit und Aktualität der Inhalte können wir jedoch keine Gewähr übernehmen.
© Ragna Schmidt-Haupt & Amiram Roth-Deblon. Alle Rechte vorbehalten.
Copyright ist bei Amiram & Ragna. Reproduktion, Nachahmung der Inhalte dieser Website in irgendeiner Form, auch auszugsweise, nur mit schriftlicher Genehmigung. Unberechtigte Vervielfältigung und/oder Verbreitung dieser Seiten stellt eine Verletzung des deutschen Urheberrechtsgesetzes dar. 
Links Disclaimer
Mit Urteil vom 12. Mai 1998 – 312 O 85/98 – hat das LG Hamburg entschieden, durch die Anbringung eines Links habe man die Inhalte der verlinkten Seite ggf. mit zu verantworten. Dies könne nur dadurch verhindert werden, dass man sich ausdrücklich von diesen Inhalten distanziert.
Hiermit distanzieren wir uns ausdrücklich von allen Inhalten aller verlinkten Seiten auf dieser Homepage. Diese Erklärung gilt für alle auf dieser Hompage untergebrachten Links.