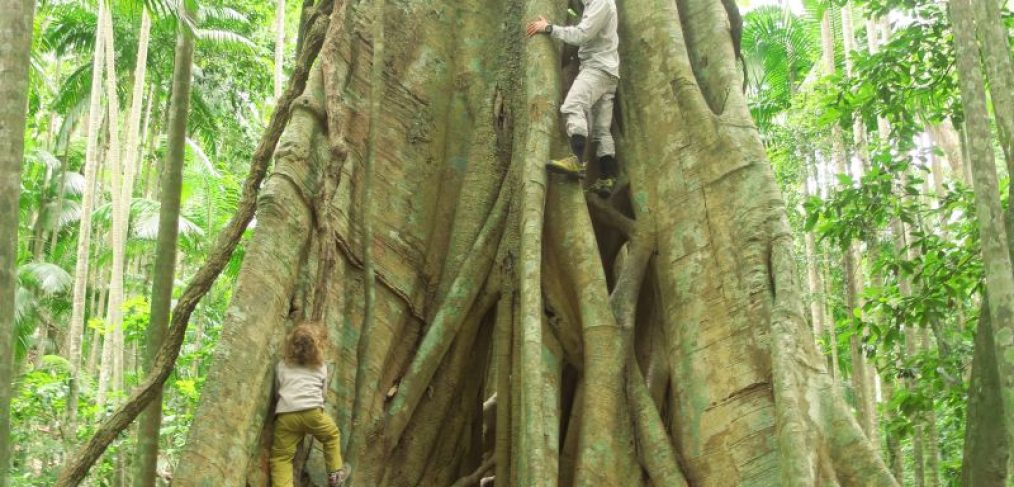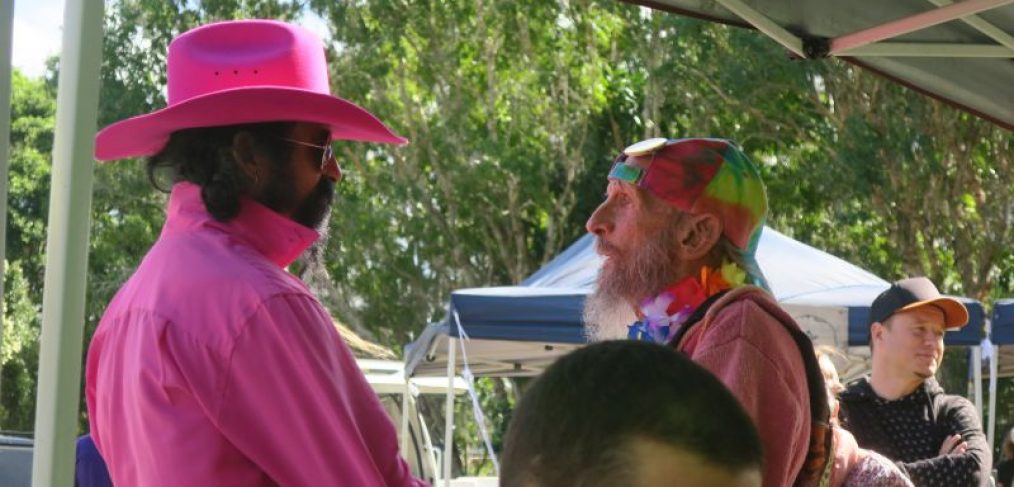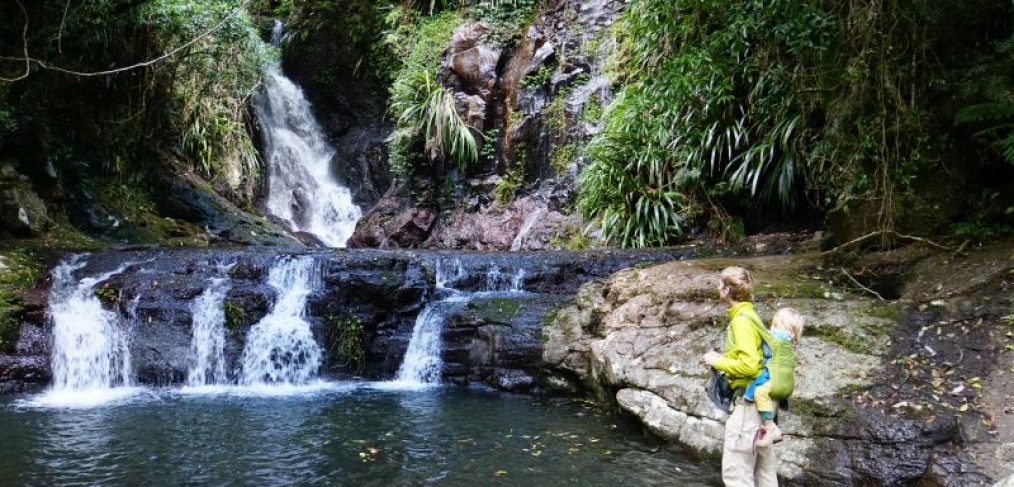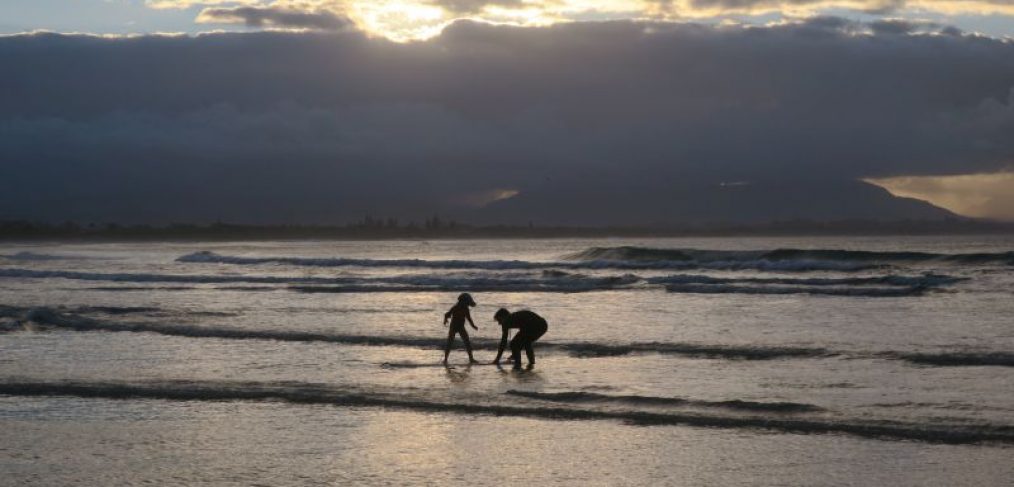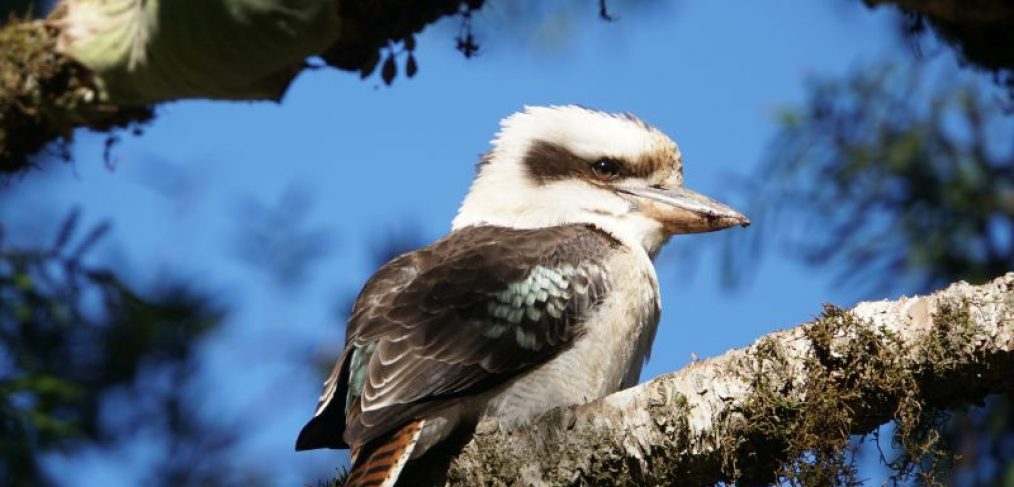 Hippies, Julian Assange and ancient Gondwana Rainforests
After having cycled south from Brisbane, via the beautiful North Stradbroke Island Nationalpark, and surviving Easter in Party (Surfer's) Paradise and Glitzy Goldcoast, we reached Buzzing Byron Bay. I had fond memories of my first visit there 15 years ago when I was travelling with my sister. I took my first surf lesson and enjoyed a challenging yoga class (my first head stand) on the 1st floor of the Surf Club, right on the beach (which was to my astonishment still there today). Byron Bay has become a lot more mainstream touristy since then and many alternative yoga spirits have moved to insider yoga schools and into the hinterland.
We nevertheless felt the Hippy and Surfer vibes with plenty of dreadlockes and barefoot walkers beside parents clothed in rainbow, batic and fairtrade clothes. In between were some lost souls of different origin. Aboriginal / First Nation culture was much more present and acknowledged than what we had experienced in Tasmania. In Tassie the aboriginal population and much of its heritage had been cruelly wiped out in the 19th and early 20th century and till today you don't see many around.
When I recently asked Amaya about what she feels exited about, she said: "on my birthday, I felt very exited about my birthday swim in Byron!". We also volunteered on that day for a beach clean up with Sea Shepherd, a successful international environmental NGO dedicated to protecting the oceans and whales in particular. Also to her enjoyment she was allowed to have 4 "babychinos" on her 6th birthday.
As we felt some kind of saturation of beautiful beaches (who would have ever thought that???), having cycled mostly along amazing coastlines during the last year and longing to get out of developed/urban areas, we swapped our bicycles with a rental car and escaped into the mountainous hinterland. Despite the dirty CO2 emissions, it turned out to be a great decision, despite me getting a little car sick on mountainous roads (sorry I am just a simple cyclist:-)).
Byron's hinterland is characterised by an ancient volcano, that has erupted 23 million years ago, which makes it a lot more fertile than most of the rather old Australian continent. We travelled through many of the hippie and alternative communities in this region. The density of alternative communities in this region is very high. A lot of people have found their home in the green and fertile valleys along one of the world's largest erosion caldera or next to the world heritage listed Gondwana Rainforests of Australia. Many have settled as organic farmers, independent or living together on large food coop's. On our way searching for an access to hiking tracks into Nightcap National Park (many access roads had been severely damaged by the recent cyclone Debbie), we met with a long, gray haired gentleman, who was hitchhiking into town. "About 500 of us live here in the food cooperative" and he pointed to the narrow rainforest valley around us, "some farming the land, others working in shops and businesses in the neighbouring villages." I liked his aura which was joyful, relaxed and calm. We had enjoyed some of the amazing local produce on one of the many farmers markets. Tropical fruits and nuts such as macadamia, bananas, jackfruit, mangoes, custard apple, dragon fruit, guava, etc. Amazingly on one of our campsites we found papaya trees planted besides a mandarin tree and both were bearing fruits. I had expected that citrus fruits need a drier climate. But as we had had organic citrus fruits before, it seems that subtropical climate in these valleys offers the land of plenty. …
In Nimbin, which is the hemp capital of the region if not Australia, Amaya followed – no – not the scent of cannabis, but the one of a 6kg locally grown jackfruit, which we had to devour on the spot. Nimbin's Saturday market was full of yogi, ayurvedic, and lots and lots of 2nd hand items. We walked past an impromptu concert, where an Aborigine played a didgeridoo, a dreadlocked Aussie joined in with a contrabass and another barefoot fellow sang and played the guitar. The musical improvisations were certainly very unique.
Somewhere between our transfer from Border Ranges, to Springbrook or was it Lamington National Park (?), all part of the world heritage listed area, we met a senior hippie lady with her Chinese temple dog. "Ugly, but cuddly" according to her. Of course the children befriended the 2 year old pup. Pretty talkative, she mentioned, amongst other topics, that she knew the parents of Julian Assange, when they lived in this part of Australia. Assange later founded Wikileaks. "Part of his childhood he grew up in this region, amongst alternative minds and hippies". It somehow did not surprise to me.
But our main destination were the lush green national parks scattered around the caldera rim full of subtropical and temperate rainforests and mountains. In order to motivate the children so that they enjoy the hikes as much as their parents, a lot of creativity was needed. Playing catch or hide and seek behind some ancient forest giants or rainforest buttress roots had already been very successful on previous hikes, so we ended up trail running parts of the hikes, as the hiding team had to run ahead. Storytelling is another all time favourite of the kids. "Tell me more about the kindergarten/school in Brisbane, Bali or Germany" are regular questions while finding our way in the jungle. These can fill easily half an hour or more while hide and seek is better suspended along mountain escarpments or sheer cliffs.
When Tayanika is getting tired from collecting local berries, cones, seeds and mosses for building nests or other artwork, and especially on steep uphills, she would rest or nap on my back in a lightweight child carrier. Big support for our tired minds are signboards along the way and the children have expanded their geology, biology, geography, anthropology and history knowledge considerably. But the best are -surprisingly – challenging parts, which require scrambling over rocks and streams, climbing up ladders into tree tops laden with vines and epiphytes, or climbing mature strangler fig trees. In the end the children hiked considerable distances and to my astonishment even several hours per day. It was well worth the effort, which has been – to be honest – tiring at times. The breathtaking views over magnificent valleys and mountains and walking among forest giants in lush subtropical rainforests, that are truly ancient. These pockets of old growth forests have existed in Gondwana times tens of millions of years ago and some tree species there have grown on planet earth long before the dinosaurs roamed the land. For Amiram and me this was truly fulfilling.
We mostly camped inside the national parks on dedicated campsites. In Nightcap Nationalpark, the children observed the laughing kookaburra picking up some leeches from around our tent. They clearly were our friends protecting us from these unwanted blood-sucking creepy crawlies. In Lamington Nationalpark, we developed a rather ambiguous relationship with the foraging bushturkeys around. Tayanika burst out into tears, after a very brazen one, snatched a dropped tomato from her. Her mood changed quickly though, as shortly after she already chased every bushturkey, who dared to come near. "Naschi, naschi" she would call while running laughingly after them. When one of these big birds jumped on our dinner table, it was my turn to angrily shout out. Which made the children laugh even more. The next morning, Amiram could not believe his eyes, when another bushturkey picked up a banana peel from between his feet. The children had fun certainly, as they were for once allowed to chase them away, as long as they did not disturb the grazing pademelons around.