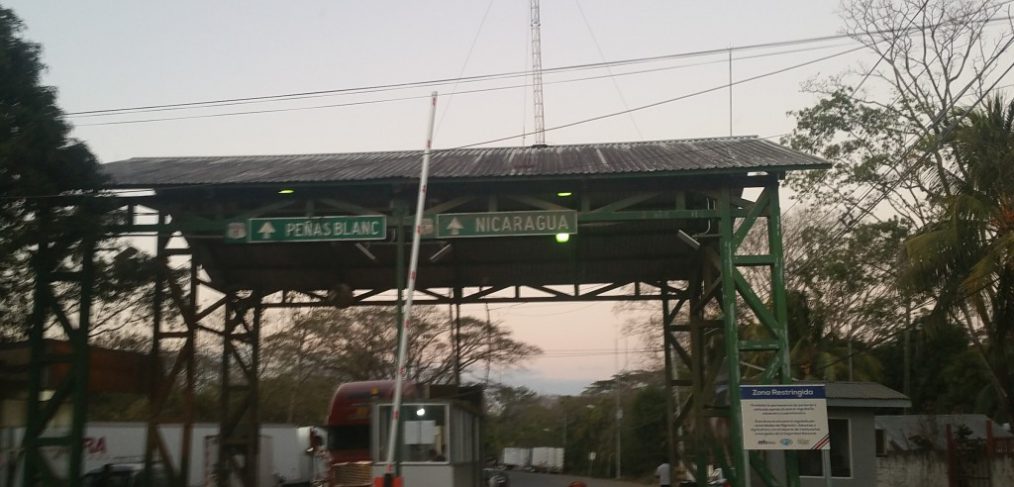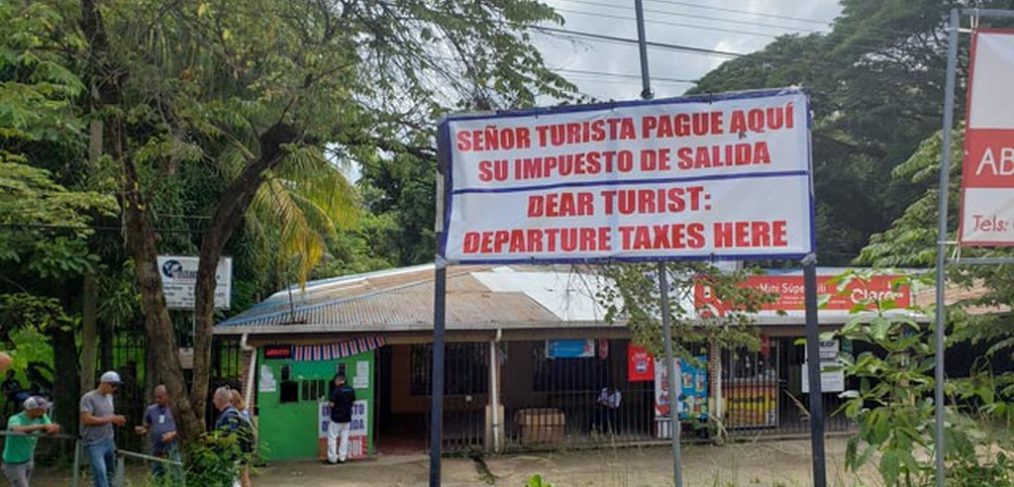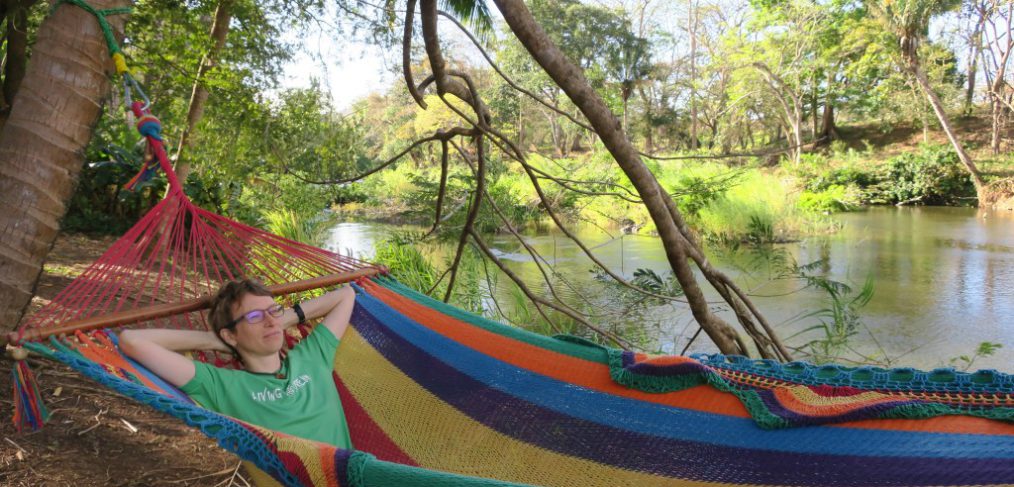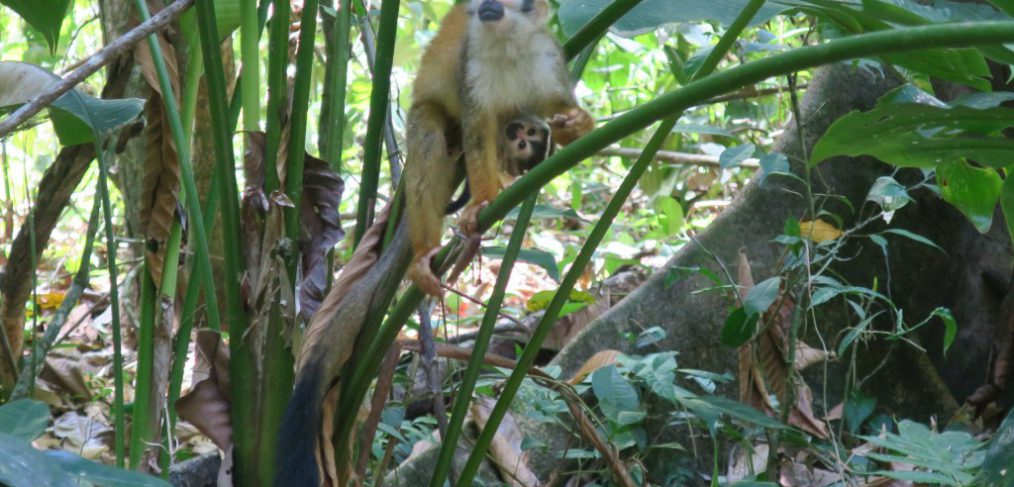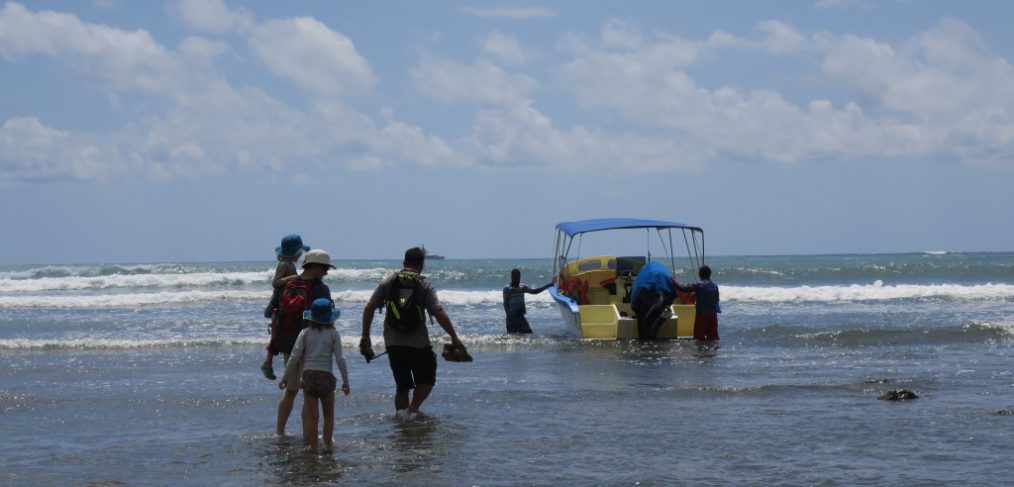 Dashing over the Nicaraguan border – before it's closed … (part 2/2)
PART 2
Should we stay in Costa Rica or should we go to Germany? Should we try to get on one of the flights that the German embassy was organising? If we stay should we try to extend our visa with a border run or just hope Costa Rica would not penalise expired visas?  Information about borders closures had not yet been released or was hard to come by as in the case of Nicaragua. We finally decided that we would stay in Costa Rica and would attempt a border run to Nicaragua.
The night before we went I had packed frantically, as if we would be leaving for a long time. Our endeavour was risky, as we did not know if we would be allowed to enter Nicaragua without being held in quarantine or be allowed back into Costa Rica.
Despite all this we decided to go immediately on the next day, Monday 17.3.2020. Not in the car of our friends, who had offered it for a day, but in a rental vehicle. Due to the sheer distance to the border in the far north of Costa Rica, we could not to come back within a day like when going to the Panama border. The Peñas Blancas crossing into Nicaragua is more than 550 kilometre from our home.
While Amiram was driving I  constantly checked incoming news about border closures and quarantines on the tiny screen of the mobile phone. Panama had shut the border overnight to all incoming travellers. I read rumours that Nicaragua was imposing quarantine. Then, when we had already driven more than 100km, news broke that Costa Rica was closing the border to Nicaragua as well. When exactly that would happen, was unclear. There were reports stating the border would close within 24 hours. While I tried to find reliable information, Amiram and I kept discussing all scenarios and weighing the risks. Being stuck in Nicaragua and possibly become confined there into quarantine was the worst case scenario.
However Amiram felt it was unlikely that the well organised Costa Rican Government would make such a sweeping border closure announcement on a Monday without giving people at least a day or two to react. Nicaragua however is much more unpredictable and it was extremely difficult to find any information on their intentions on border closure or quarantine.
We were racing against time. If it would have been for Amiram and me on our own we wouldn't have worried as much, but the added responsibility for our children weighed like a rock on our shoulders.
Our oldest daughter sensed how tense we were and started begging us to turn back. We kept repeating to her, like a self-fulfilling mantra, that everything would be fine. We told Amaya that we would carefully check the situation at the border itself and would not take any unreasonable risks. We wanted to believe it ourselves.
It was a 6.5 hours drive. We stopped only once at a supermarket, hectically glancing around us to check if people were following the hygiene rules. Several times during the drive we asked ourselves quietly whether we should turn back and stay only another month, or simply overstay on our visa, instead of risking to enter Nicaragua and not be allowed back. I even tried to call the German embassy in Costa Rica, but the line was busy. Then I wrote an email to them. Although they did answer within a few hours, the response was vague and fluffy. Some of our friends told us that the Costa Rican government would have to extend visas for long-term tourists anyway as they were an important part of the economy, so we shouldn't bother. But we didn't want to have to rely on this goodwill. So we kept going.
Multiple children audio stories about the chirpy little dragon Coconut ("kleiner Drache Kokosnuss") saved us and kept the kids distracted. 2 hours before reaching the border, rumours were multiplying on the Internet. But we were so close now, that we just wanted to see by ourselves.
Frantically searching on the web again I found a guesthouse with chalets along the way, offered by a Swiss couple. They were even offering day trips to Nicaragua… I immediately called the lady to find out more. She advised me in the typical calming Swiss-German accent that it should be easy for us to do the border run tonight and that afterwards we could come and rest at her peaceful place. I did not dare to hope too loudly that everything would be fine.
The sun was about to set, when we reached the dusty border post of Peñas Blancas. Here in this part of Costa Rica everything is so much drier than in our Pacific jungle of Ojochal. It felt like in an African Savannah. The border wasn't very busy. We overtook a long line of trucks and stopped in front of the sign board that said "DEAR TURIST, departure tax here".
Everything was as described on the helpful how-to guide to Nicaragua that had been posted online by other travellers. While Amiram stayed at the car negotiating with some touts about USD exchange rates, I walked to the little window in the wall paying our departure tax. Behind us were small groups of internationals with lightweight daypacks, relaxed and joking. A family of 4, an older couple and an American-Asian lady with a smile. I asked her if she was also crossing the border and would be coming back still this evening. I felt silly asking as it looked so obvious. But I wanted to hear it with my own ears to believe it. She responded positive and said it should be quick and easy and that we did not even need to take any luggage with us.
Reluctantly we left all our belongings in the rental car, checked that it was locked several times, and then headed towards the large building of the Costa Rican Exit office. Only the other Westerners were there. Our passports took a little longer to be checked because of the many pages full of immigration stamps mostly from Asia.
"Ragna, the Viking", perplexed I looked at the officer. He grinned at me. I was so tense about saying the wrong thing, that he had to repeat the joke 3 times until I understood. Few years ago a Viking series got released featuring the main character Ragnar. A muscular, big and bold Viking. Since then I get these comments frequently as I look the total opposite. I breathed out, relaxed a bit and tried a smile.
Stamp, stamp, stamp, stamp. Ok, we were doing this now! No way back. We were officially out of Costa Rica.
I had read that we needed to walk for 1 km and over an old rusty bridge all the way to the immigration office on the Nicaraguan side. The sun had already set, it was quickly getting dark with only few street lights around. There was still one tout following us, trying to offer his services. Although the children had been walking fast and brave with us so far, the tout's presence made them feel clearly uneasy. And probably me too, because a bit too rough I had to tell him, that we were fine on our own and would not require further assistance. He left. What a relief.
We were now walking past a long line of trucks crossing slowly on the narrow, old bridge. An officer stopped us to check our passports. He frowned  at the sight of one of the kids passports and showed it to his boss, who was standing a bit further away. Silence. Then the older officer nodded and he returned us the passports.
"La vuelta?", he made a sign of a curve with his hand, then pointed back from where we came from.
"Si, we'll come back to Costa Rica", I stuttered unsure whether it was the right answer. It seemed to reassure him.
Then from far we spotted the modern building of the immigration office with the Nicaraguan flag. As so perfectly explained on the "how-to" website. We were doing this! As we entered the air-conditioned, brightly lit building we walked straight to one of the 3 counters. We handed over our 4 passports as well as the USD amount to pay the entry tax into Nicaragua. The woman officer read our names out loud and examined our documents carefully.
"La vuelta"?, she motioned with her hands a circle again.
"Si. Si. La vuelta." I responded hectically, surprised that she too was so openly asking about our intention not wanting to stay in Nicaragua. Maybe they were relieved after all, that we would go back to Costa Rica and not spread any disease in their country…. But then she paused, wrinkled her forehead and examined the kids' passports again. German children's' passports have a soft cover, but adult ones have a hard cover. I tried to explain in my intermediate Spanish, that this was always the case in Germany. She seemed unsure and walked to her superior's office.
"What's wrong with that passport? 'Tis the 2nd time that they stumble over it now." I wondered impatiently.
"Nothing", Amiram hissed through his lips.
Amaya bursted into tears. She just couldn't bear the tension anymore.
"Control yourself, Amaya. We aren't doing anything wrong" , I heard myself saying in a sharp voice.
Her body was shaking but I could see that she was trying hard. Tayanika looked concerned but seemed to either trust our ability to manage everything or did not yet grasp the gravity of the situation. Another officer walked past and collected the 1 USD per person municipality tax. Lucky we still had enough small US Dollar notes, as we were told there wouldn't be any change.
Later the girls told me, that I had looked rude and impolite in those tense moments. Oh dear. That surely had not instilled the confidence that was needed then.
After minutes that felt like aeons the officer returned, stamped our passports 4 times and handed us the documents along with receipts for payments. Wow, now we were indeed in Nicaragua. We felt relieved, but not because of Nicaragua, but mostly because we were now half way through "la vuelta" already and everybody seemed to expect that we were going back anyway….
It was pitch dark when we left the immigration office in Nicaragua and re-entered on the other side again. It seemed all a bit absurd. Inside I nestled around in my purse to pay for the municipality tax again. I fished out my last small notes of 5 USD. We even received 1 USD  change. The officer only quickly glanced at us, stamped us out and asked no further question.
And then, we walked all the way back through the no-(wo)mans land over the narrow old bridge in the light of the trucks waiting. Past the checkpoint, this time a friendly woman in khaki green uniform checked our passports with the stamps. Once we reached the Costa Rican side we noticed that the officers were wearing face masks and gloves, while talking to truck drivers.
And then the final step was waiting for us. Another entry of the same immigration building, where we had started off 45 min ago: The only obstacle between us and re-entrance into Costa Rica. In front of me in the queue stood a tattooed western guy with a bruised eye. He was talking too much, too fast and appeared nervous. It was almost 8pm now, people must want to go home, I thought. They should just let people through now to have less trouble, I was hoping. But the guy was sent back. He seemed upset, when he sped past us.
It was our turn now. I approached the counter, behind me the kids, then Amiram. I handed over our stamped passports and fiddled around on my phone to show our outward travel proof booked the night before. But the officer did not even ask a single question where we were going, what we were doing or how long we wanted to stay. Without a word he scribbled the number 90 (for 90 days) one by one into each of our entry stamps. My racing heart slowed down a bit. When he passed over the last document to us, I grabbed them and we sprinted out of the building. I tried to hold back my grin, Amiram breathed out loudly.
Inside the rental car the moment we had slammed the door closed, Amiram and I instantly started to burst out in a wild scream: Yyyyyyyyyyyyesssssssssss. Yes, yes, yes, we did it!"  Such a tension had built up over the day and culminated in the last hour. It all  came out. The kids looked  a little surprised but a split second later joined into our triumph howl. It was way past bedtime, but it totally didn't matter.
The next morning we woke up by the sounds of monkeys dropping fruits onto the roof of our Swiss chalet in the dry jungle of North-Western Costa Rica. We crawled out of our beds and snuggled into rainbow coloured hammocks outside. Troops of spider monkeys and howler monkeys were peacefully crossing each others paths right above our heads.
Butterflies and bees hummed. Birds sang their energetic morning songs. We gently swung back and forth covered only by a light blanket, that the kids had grabbed to cuddle up. The air here was much drier than in the South and it had nicely cooled down from the previous day's heat. The sweet scent of tropical flowers surrounding our terrace soothed and the view to a river below calmed our tired souls as if to make it all up again. The corona virus, the border closures and the global chaos seemed suddenly comfortingly far away.