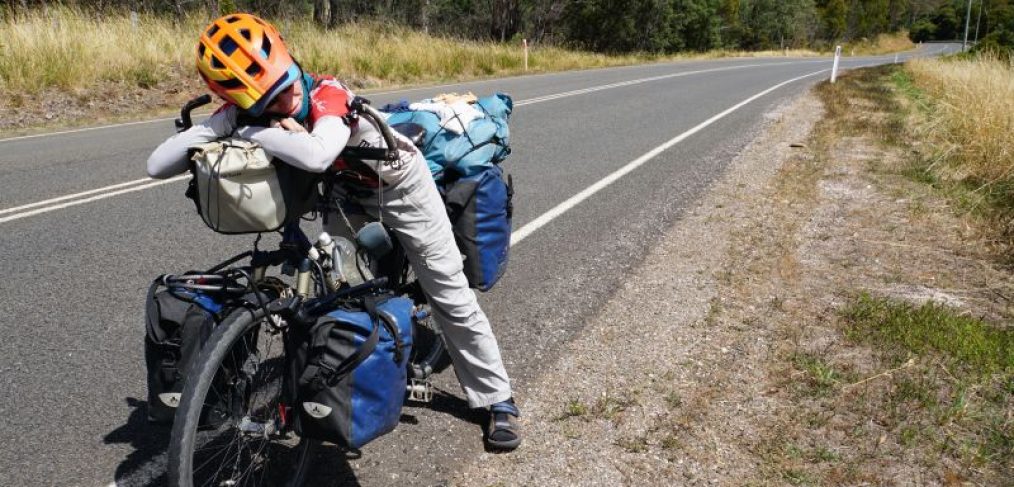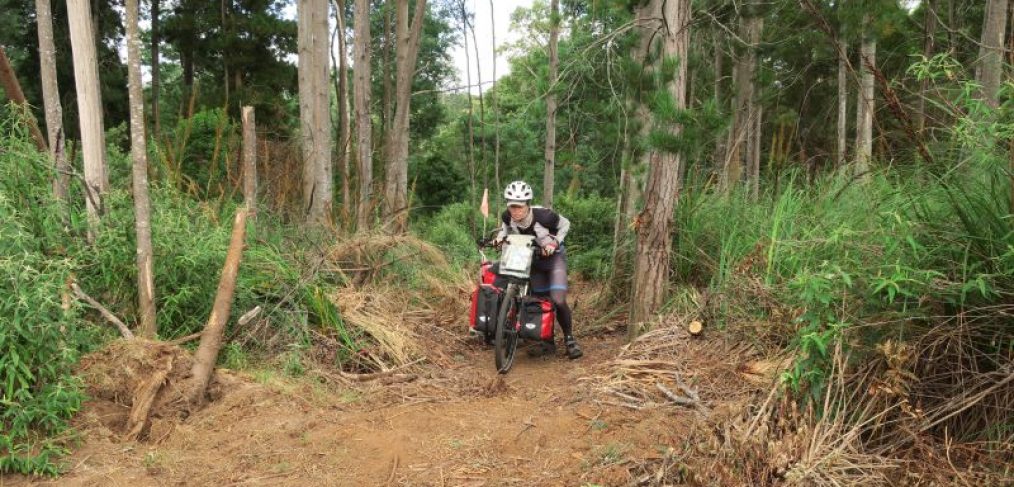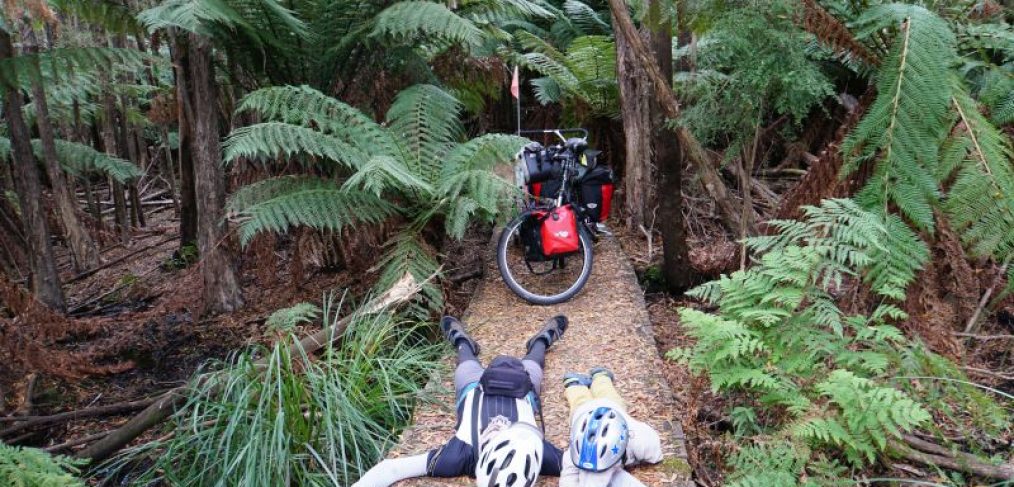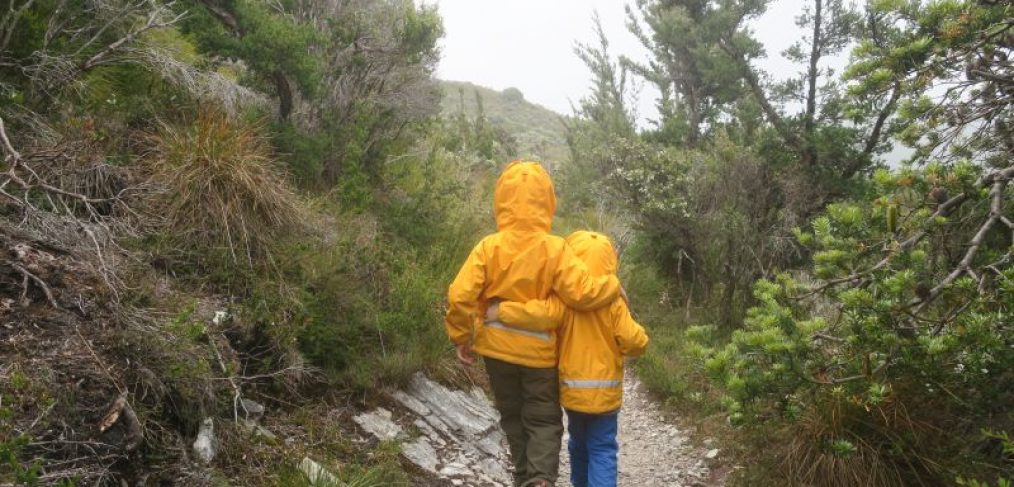 Tassie, you are testing us! Hardships on the road…
Do you know the feeling that you just want to "get out of here" (as 3 year old Tayanika puts it in her dry humour)?
"Why am I doing this to myself/ us/the kids?"
Cycling up a steep hill on a sticky dirtroad, somewhere in Tasmania, these words repeat in my head again and again. I am getting off the bike to push for a very hard stretch. And slide half off the road in a mound of pebbles, scrambling under my overweight bags. Back on the bicycle, I try to smile at some off road motorbikers, who watch us cycling past, as if we were from another planet.
The next hill approaches, in this ever rolling landscape of coastal Australia and Tasmania. In Tasmania despite being in Summer I feel the freezing wind on my skin. In front I can see Amiram's bent back, crawling at 4 kilometre per hour up the mountain, pulling this heavy trailer. I watch the dark rain clouds slowly but steadily approaching. And I silently wish that Amaya would just gently hop into the Chariot, quickly take off her jacket and buckle herself, without disturbing Tayanika (wishful thinking), when the rain starts. Next I find myself fighting with gale force winds throwing buckets of water at us while I am still closing the Chariot. And of course before being able able to put my rain gear on. Few minutes into some futher cycling in the rain this time in full raingear, I am already fearing the words being shouted from the Chariot "The rain sipps through! Or it's too hot…". The reason are perspiration and 2 kids in a closed trailer. The strong scent of eucalyptus surrounds us as if wanting to soothe our tense nerves. Still everybody seems to grump at everybody. So, when are we getting out of here? Not really, not now.
Noone to blame, than ourselves. It's still pretty surprising how much one can endure…
The beautiful, pristine landscape we roll through is the reason why we are here. And only by travelling slow, one is really able to take in the full beauty of nature.
But then it get's so bad, that I really wish I could just snuggle into a warm wind shielded car, that can drive me up the mountains, over "ouzy" (latest word invention of the kids), muddy dirt roads to the next supermarket and drinking water supply.
We did end up booking a small comfy car, to visit the amazing Cradle Mountain and Gordon Franklin wild river National Parks. It is too mountainous with thousands of meters to climb with the bikes and too remote (ie too long distances for us to carry enough supplies) with the kids in the trailer and hauling around 60kg+ uphill anyway. Again the weather is not on our side. We are trying our best to cheer up the kids during our Hiking trip close to the best known Tasmanian mountain, the prominent Cradle Mountain,  with falling "snow slush" and lots of Wombat poop around. I have to admit, that Amaya and Tayanika actually did amazingly great and were quite cheerful, given the circumstances. As we are on a summer tour, we don't really have real winter clothes or sleeping bags, but just wear all our clothes at the same time.
But then it gets even worse….
Camping at 4 to 5 degrees C under heavy rain and freezing wind during the night, despite having a nice warm campfire in the closed camp kitchen hut, gave me the rest. Having to wear 2 trousers and 3 shirts under my fleece in my summer sleeping bag for consecutive nights is not really what I like (and I did not have anymore clothes to put on anyway).
I wished I could just hide in a cosy, dry cabin, to get out of the cold, the rain, the dirt and the storm.
The next night, we booked a cabin on a caravan park. As we arrive, we all immediately disappear in the cabin. That to my delight had a shower inside, a shower that I didnt want to leave anymore (btw I used up all our evening hot water, Amiram had to wait till the next morning…). To the kids delight there was a bunk bed, that they extensively used for playing, so that they did not even notice the swings outside of our door until the next morning. To Amiram's delight he spotted an oven, and immediately drove back to the supermarket to buy potatoes and feta cheese. To all our delight there was a heater, that we turned to the max. And I so enjoyed the down blanket and the heated matress in the bed, that I fell asleep while reading bedtime stories to the kids (although this actually happens pretty often to be honest). We did not go a single time to the camp kitchen, nor talked to the friendly campsite owners, or made friends with any of the other campers.
Refreshed and revitalised we left the next morning, ready for the next day in the cold and the rain…. Ready for the next campsite and soon ready for the next hill. And ready for the beauty of Tassie's nature closeup and slow. Already knowing that we'll be cursing the self inflicted pain at a certain point of time again 🙂