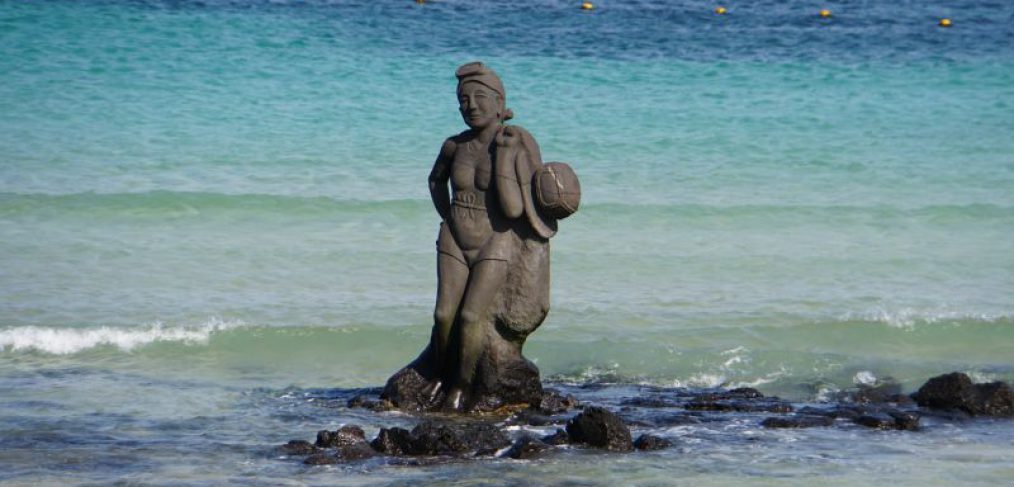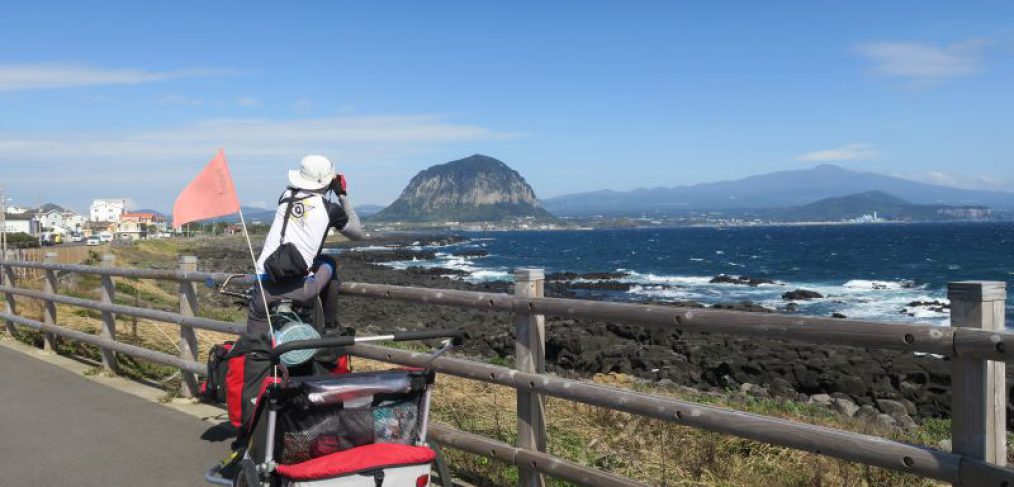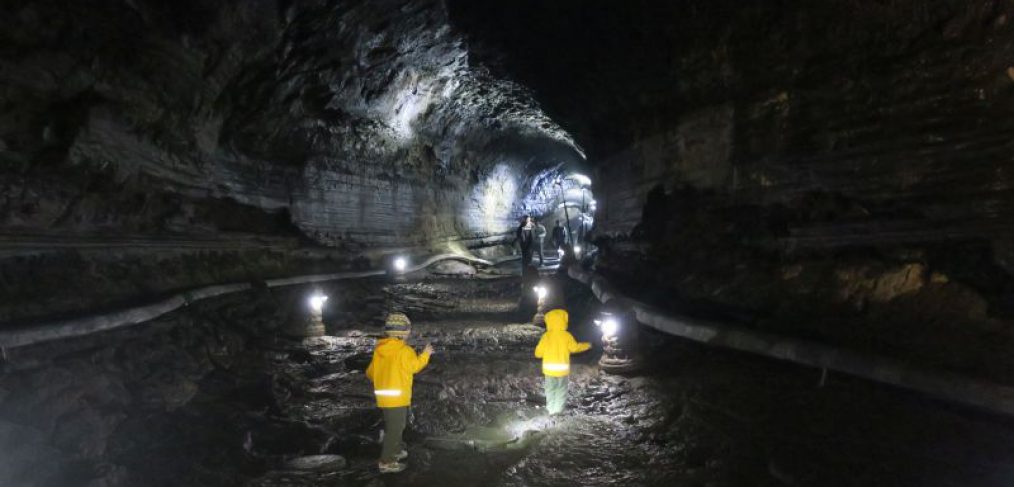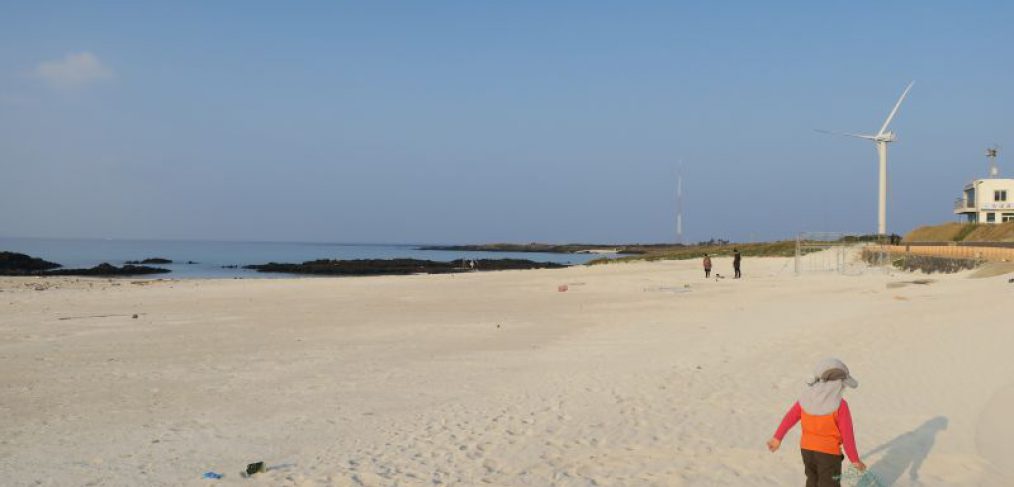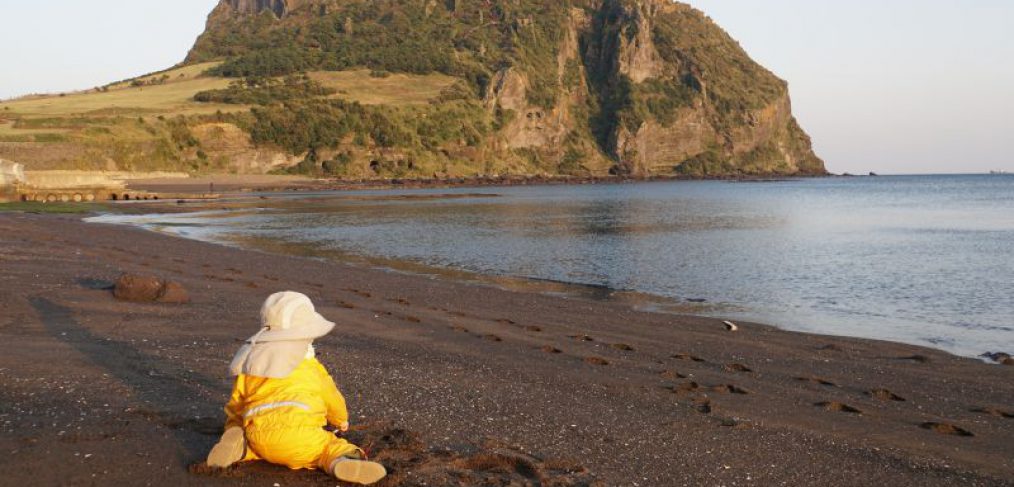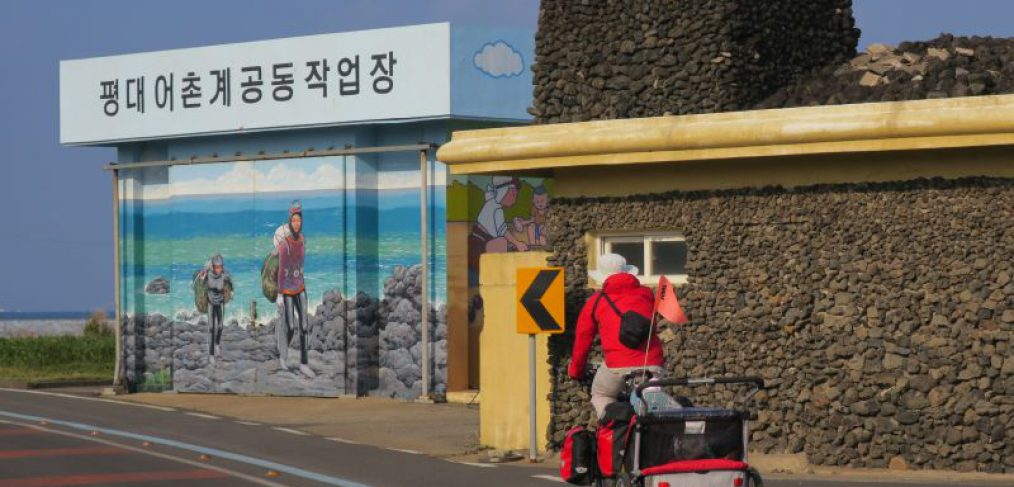 Volcanoes, Wind and Women Divers
We had been looking forward to cycle our last two weeks in Korea on its most famous island, Jeju-do.
As our ship moved slowly into Jeju harbour our excitement increased with the slowly rising sun. The clear blue morning sky and mild temperatures where a phantastic welcome and nice change from chilling and foggy mornings in mainland Korea. We had however fallen behind on route planning and only knew that we would cycle around the island along its coastline with roughly 280km ahead of. We expected beautiful nature and coast and hoped for few hills.
So many months along Japan's coast seem to have addicted us to the open sea and lush green mountains at its backdrop. The 4 river cycle path and it's beautiful landscapes had been amazing but once we reached the Jeju's coast we knew what we had been missing.
Jeju-do (Jeju Island) is of volcanic origin with South Korea's highest mountain at its centre standing almost 2000m tall (Halla San = Halla Mountain). The island is famous for many things:
It's diverse and stunning coastline, several UNESCO world heritage sites, white coral sand beaches, a long tradition of free diving women (Haenyeo), many large volcanic caves,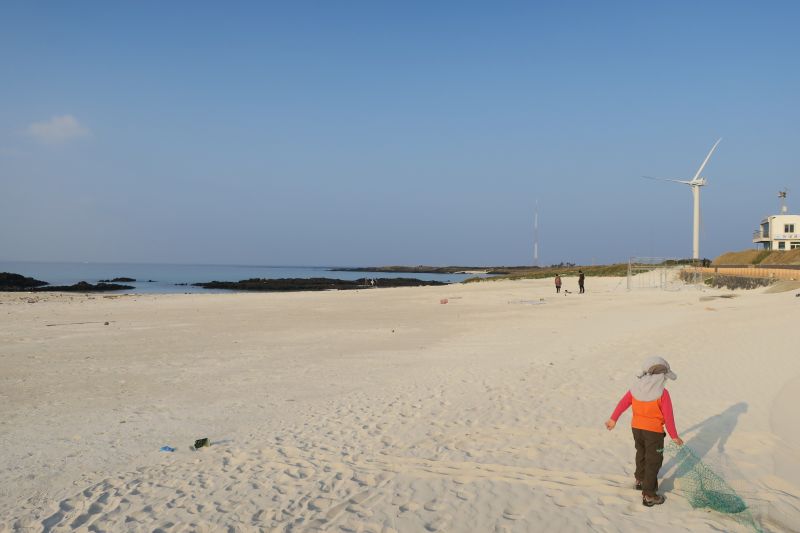 White Beach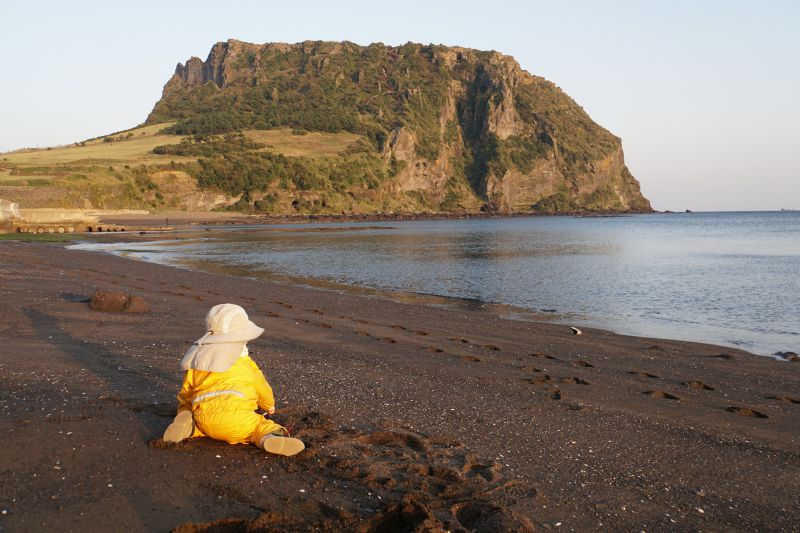 Black Sand and Volcanic crater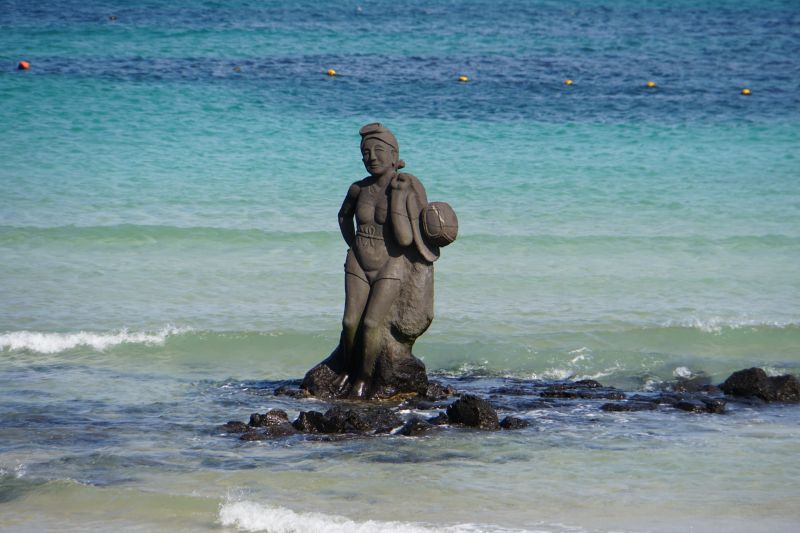 Haenyeo – women diver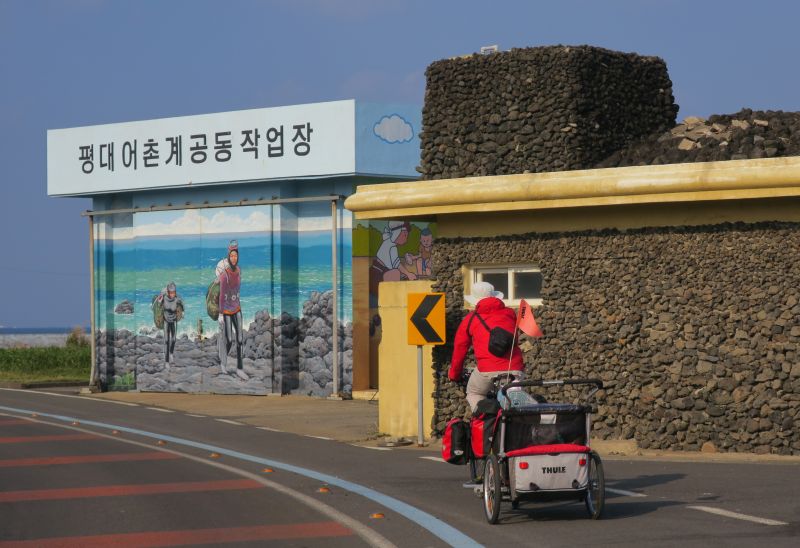 Haenyeo Art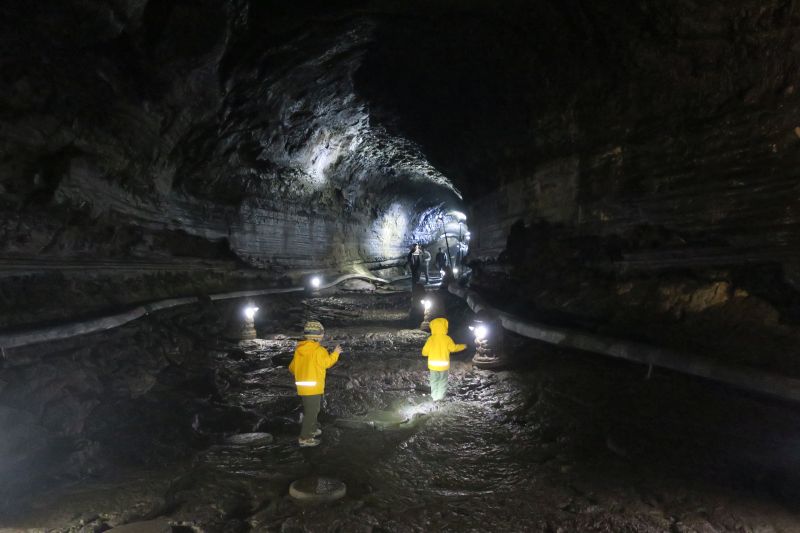 Lava Tube
orchards full of mandarins and oranges and many other things.
Jeju is a superb cycling destination even when there are strong winds and we would even go as far as rating it No. 1 cycling location of Korea and thus putting it ahead of the marvelous 4 river cycle path from Busan to Seoul.
As usual we had planned to camp as much as possible. What we did not know was that the winds on Jeju can be ferocious at this time of the year (basically late Autumn and Winter). On top of that it was not possible to receive consistent information on campsites for the whole island. The first campsite we targeted did not exist anymore and the strong and chilly winds make camping with kids really more of a summer activity on Jeju. In addition Amaya and myself caught a nasty cold on the first days so we decided to spend our nights in some of the many guesthouses. Strong winds means wind speeds of easily 40 to 50 km/h which made crawl at times with only 10 to 14km/h even on flat stretches. One would now think, well headwind in one direction means a great tailwind later on a circular route. We were not so lucky however. The wind changed direction from Northeast to West/Northwest which meant that on 7 out of 8 cycling days we rode with headwind or strong wind from the side. Having mentioned all these challenges, Jeju's grand coast, amazing rock formations and volcano cone dotted vistas coupled with unique cultural traditions were well worth this extra effort.
What personally impressed me a lot, was the culture of the women free divers of Jeju (Haenyeo). The female divers are known for their independent spirit, iron will, determination and perseverance. I had the feeling, that they were more independent than Korean women on the mainland. Earning a major part of the households' income, or even living abroad and sending back money, helped them to achieve this status. Without oxygen tanks, Haenyeos are able to dive up to 30 m deep and hold their breath for up to 3 min. And this until they are 80 years old. During the resistance against the Japanese in the 20th century, they too played an important role.
Jeju is also famous for its long distance hiking path called "Olle" trailes, that covers the entire island. "Slow hiking" experience is promoted here and we felt very sympathetic towards the many hikers we met along our way. The friendly calls of "Annyeong-Hasseyo" (Korean for Hello) still sounds in my ear. Again to the children's delight, they received numerous presents – not only from the hikers. We had learned to say "Gomapsumnida", one of the many Korean ways to say thank you. As the Korean language seems to apply very long words to simple things, I did not believe Amiram in the first place, that this was the right word, then it took me almost 3 days to learn it.
We concluded our visit to Jeju with a very nice meeting with Eun-Kyoung Koh and her partner of "Global Inner Peace", at their office. We had come together to explore possibilities to cooperate in tree planting events of native Ginseng tree species at next years Earth Day and to learn about each others activities. This dynamic non-profit-organisation offers various activities around peace, culture and environment, involving both locals and internationals throughout the year on Jeju Island. globalinnerpeace.org