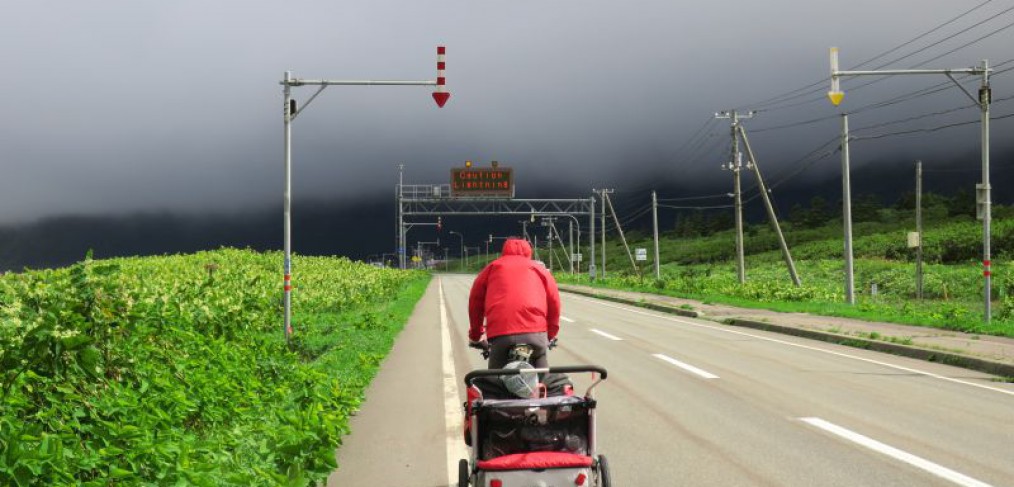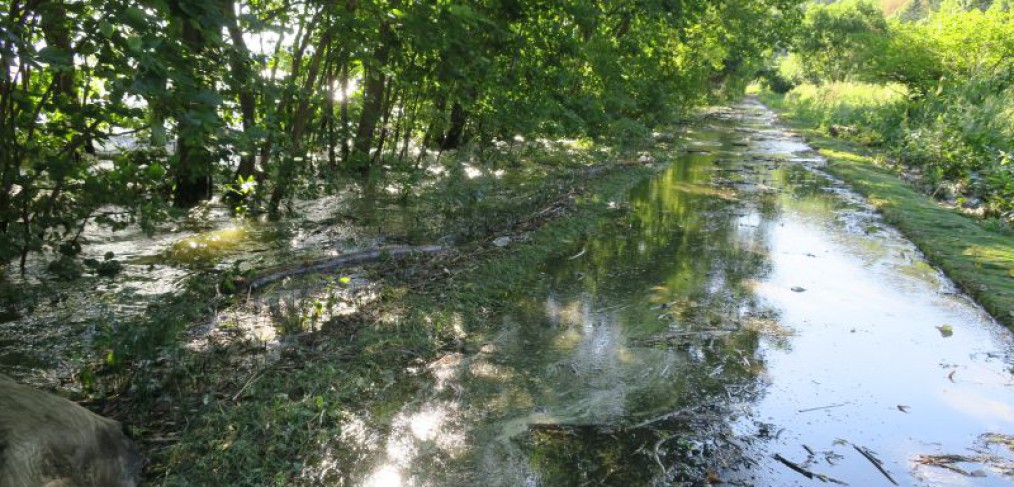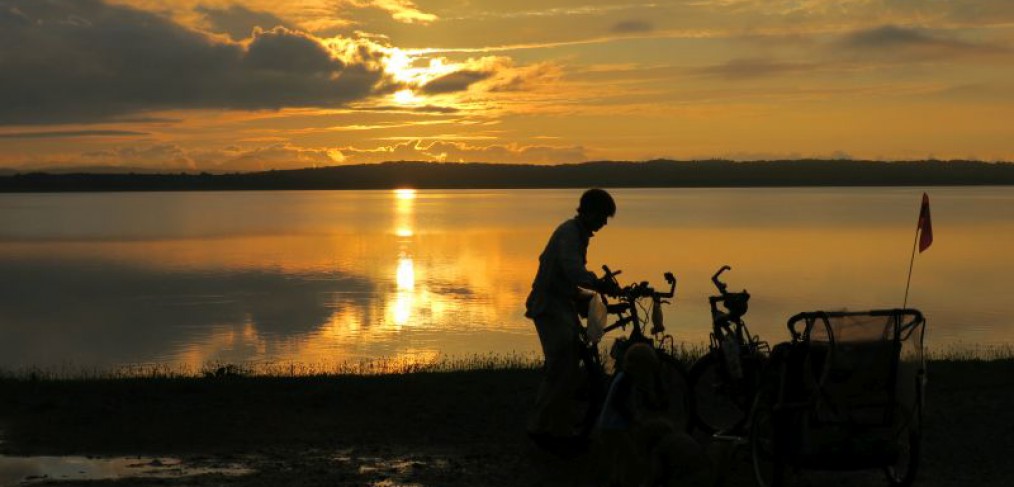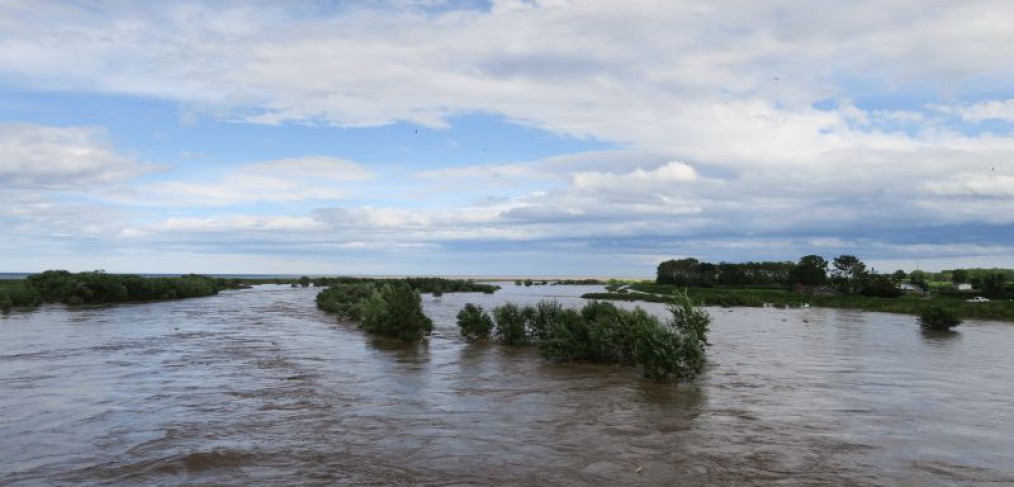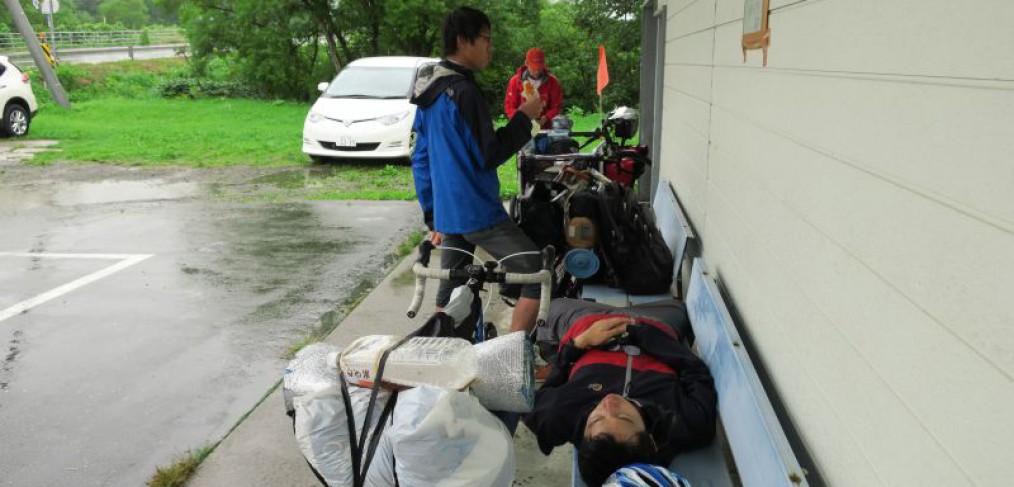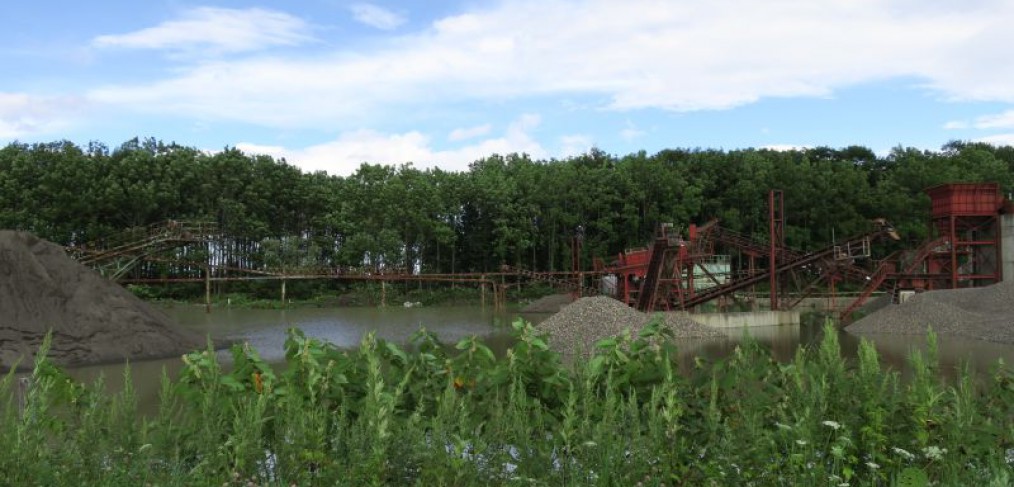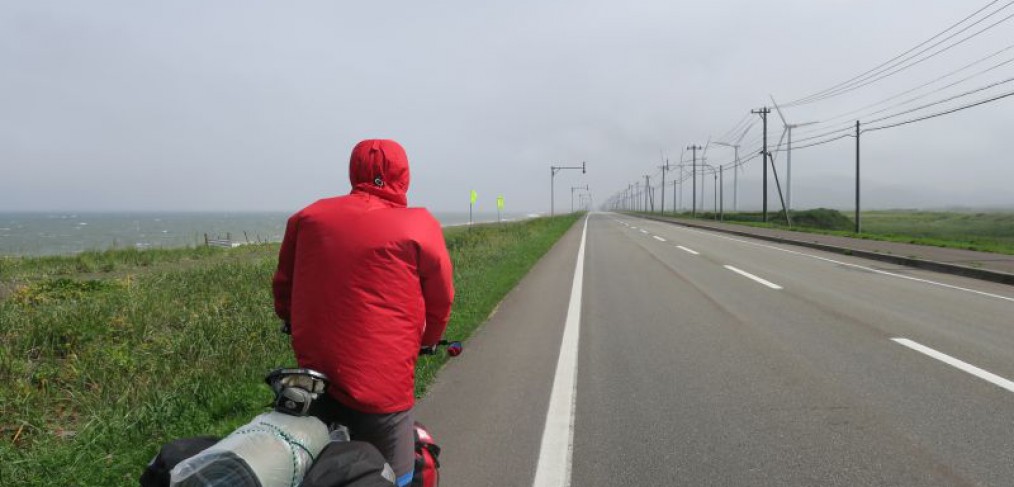 Countdown to Typhoon Number 7
8.00 pm on 17th of August 2016 : I have just arrived at one of the coin laundries in Wakkanai, city at the Far North of Hokkaido. It is already pitch dark outside, heavy rain and pretty windy. I am waiting for the Typhoon – Typhoon Number 7. Already 3 days ago we got alerted by our biker friend – who we met 3 times on the beautiful and very different Northern islands of Rishiri and Rebun. A tropical storm was to come and we should better take precautions and seek a shelter. Two days ago also our weather forecast tool announced the Typhoon to reach the most Northern tip of Japan. A bit disappointed we hence left this romantic island of Rebun earlier then planned and took the ferry back to Wakkanai. Here we checked into a local Minshuku (Japanese guesthouse) to await the Typhoon.
8.05 pm: I look out of the window of the laundry, the rain is still heavy and the strong wind seems unchanged, but it still seems fine to safely walk back to the Minshuku after the laundry is done, where the rest of the family was waiting for me.
Earlier I had a Mousse au Chocolat from the neighbouring Seicomart (Hokkaido convenience store). To sweeten my waiting time;-)
Puh, still 35 min for the washing. Then drying. Hopefully I ll still be fine to walk back then.
In the coin laundry everything is written in Japanese, so I am still guessing which dryer to take. Lets see.
When I left our cosy guesthouse room, Amaya was worried that I would get blown away from the Typhoon. They usually dont come up north to Hokkaido so often nor so early in the year…
8.15 pm: Hm, I just checked the TV, it seems not working. Outside there are still some cars and taxis, but I see no people. Tired. Longing for the shower. I still need to handwash some items after returning to the Minshuku. It's getting late. Just ironed some patches, lots of "housework" at the Guesthouse. Amaya pretended to iron too. Sweet. Tayanika listened to her bedtime stories and was waiting for her "Milchi" or "water milk". She does not like fresh milk in her bottle…
8.25 pm: Two more guys enter the laundry. Father and Son. They are only going for the dryer. Polite nod at the entrance towards me. They are now reading the instructions and seem to be wondering too. So not only a matter of my lack of the Japanese language… They opt for the 40 kg option. 800 yen. 40 min. Expensive. I ll go for 10 kg… and will take the smaller machine too. Which is still very big by the way…
8.26 pm: Its actually not a dryer! I am wondering now whether I should have taken their washing machine too? I only paid 300 for 40 min. Is their one with hot water and not only with cold water, as is typical for most Japanese washing machines? But I ll definitely go for the machine that says "gas dryer" now. The only English word around….
8.28 pm: I am checking outside, the situation seems unchanged, so it is still safe to stay and wait for my clothes to be washed and dried.
8.32 pm: I need to switch on the wifi now, as discussed with Ami, so he does not get worried about me in this Typhoon night.
Skype is not working. Dammit.
Outside it looks a bit more stormy now, as derived from the raindirection under the street light. It seems more vertical than before…
8.35 pm one more guy enters and opts for a washing machine. " Konnichiwa". Hello, Good afternoon/ evening in Japanese. All others had in the meantime left again.
8.40 pm: I need to change for the dryer now.
Skype worked. Ami had checked the Typhoon location in the meantime. It has now reached the South East of Hokkaido. We are North, rather West, so that s good. It wont go directly through Wakkanai then. His text is saying, that the Typhoon will be closest to Wakkanai between 9 and 10 pm. So very soon.
8.43 pm: One more middle aged, rather shy couple enters the salon. Also washing. Nobody takes the small machine as I did. So it was definitely a mistake then…
I have chosen a dryer now. 100 yen for 10 min. Its drying, yeahh not washing! I still wasn t 100 % sure until really seeing it tumbling without adding water.
8.50 pm: I again went to the door to check the stormy night outside. There is still heavy rain. Maybe even stronger now. Wind – roaring maybe a bit stronger… I saw an elderly couple with umbrellas huddling past. The other couple is leaving again. So I am again by myself only with the sound of the washing machines and dryers.
8.55 pm: there are again few people walking around outside. Three dark shadows, with umbrellas.
I feel thirsty.
8.55 pm: Beep and female voice talking. My dryer has stopped. I need to check now, whether I should dry one more time in case the clothes are still a bit wet….
8.56 pm: All items are hot and pretty dry. Good quality machine. Not like some others that I had before on this tour…
I pack the clothes in plastic bags and put them in the round trolley, that is standing around for convenience.
9.00 pm: I will now make my way back to the Minshuku. 500m. 8 walking minutes. Lets see how it goes. It is hopefully quite sheltered here near the hill, 2 kms away from the coast.
9.01 pm: I step outside. The storm is hurling and the rain blows close to vertically into my face. I cover myself and the dry clothes with the umbrella and start walking very fast into this dark, stormy night.
Typhoon Number 7 (the one during my laundry) and Typhoon Mindulle happened one after the other during this same week. Pictures taken along the road show stormy cycling days,
exhausted cyclist during rainy days,
damaged farms and factories,
but also beautiful sunsets over puddles and lakes in North Eastern Hokkaido.